Wellness & Immune Support Bundle
Regular price
£105.99 GBP
Regular price
£132.94 GBP
Sale price
£105.99 GBP
Unit price
per
Sale
Sold out
Key Benefits
Immune & Wellness Support
Perfect for bone health - 1,2,3
100% daily NRV for key vitamins 

Vitamin D supports the immune system, maintains bones & muscle health - 6,7.

Entourage Effect from broad spectrum CBD Oil.

CBD suggested to ease discomfort & swelling - 9
Contains:
Vitamin D3 & K2 Tablets (90)
Vegan Omega-3 Capsules (2x 60)
Vegan Multivitamin Capsules (90)
Active Curcumin with Vitamin D3 (90)
10% Broad Spectrum CBD Oil (<0.01% THC)
Product overview
Our Immune & Wellness Bundle is designed to provide some essential nutrients which may be challenging to obtain solely from food sources, alongside products suggested to support your overall wellbeing. The bundle includes Vitamin D3 & K2, Vegan Omega-3, Vegan Multivitamin, Vitamin C, Active Curcumin with Vitamin D3 and 10% CBD oil.
Vitamin D3 & K2
Vitamin D3 & K2 tablets provide over 100% NRV (Nutrient Reference Value) per daily intake with 100μg of vitamin K2 and 125μg vitamin D3 per serving. Vitamin D3 contributes, among other things, to a normal function of the immune system and to the maintenance of normal muscle function and normal bones. 1,2,3 Vitamin D3 is mainly absorbed through solar radiation, which is why many people, especially in the UK and in the winter months, do not achieve optimal levels 4. Vitamin K2 works synergistically with vitamin D3 by ensuring that calcium is transported to the bones.
Vegan Omega 3
Vegan omega-3 are made from algae oil and contain 300mg DHA & 150mg EPA per serving (2 capsules). Omega 3 contributes to normal heart function, normal blood pressure, brain function and vision 5. Studies have also suggested that mega 3 Omega 3 can theoretically be obtained from your diet, by eating things such as oily fish, nuts or avocados, however these would need to be consumed in large amounts - which most people don't do.
Vegan Multivitamin
The multivitamin capsules also meet up to 100% of many essential vitamins and minerals NRVs, including  zinc, folic acid, vitamin A, vitamin C,, copper, selenium and iron which contributes to the normal function of the immune system (5). 
Active Curcumin With D3
Active Curcumin with Vitamin D3 Powered by NovaSOL®, our convenient Active Curcumin capsules combine 500mg curcumin with a daily dose of vitamin D3, helping to support your normal immune system and maintain muscle function (6, 7). The NovaSOL® technology for our curcumin has been shown to have higher bioavailability than powdered curcumin (8), making these capsules a convenient and efficient way to get the curcumin you need.
10% CBD Oil
The bundle also contains 10% CBD oil, a rather lightly dosed cannabidiol oil that is perfect for beginners. Cannabidiol (CBD) is one of over 100 phytocannabinoids found in hemp. CBD naturally interacts with our endocannabinoid system, which is found throughout our body and helps regulate cognitive and physiological processes such as mood, appetite, sleep, and pain. While THC binds to both cannabinoid receptors directly, CBD only indirectly affects the two types, with early tests suggesting CBD has anti-inflammatory, analgesic, and sedative properties. Because CBD is neither a high nor addictive  substance, and it is a natural, non-psychoactive substance, it is completely legal in the UK and in almost all countries (<0.2% THC). 
Our CBD oil is blended with 100% pure organic MCT carrier oil and terpenes to offer high quality THC-free Cannabidiol (CBD) drops. The 10ml bottle contains approx. 240 drops. A drop of 10% CBD oil is 4mg. With a dosage of 20mg CBD per day you would need about 5 drops of 10% CBD oil. 
Please note that while our Immunity Bundle offers a convenient way to supplement your diet with these nutrients, it's important to consult with a healthcare professional before starting any new dietary regimen or taking supplements. 
References:
https://www.ncbi.nlm.nih.gov/pmc/articles/PMC5527850/

Vitamin D3 contributes to normal function of the immune system

Vitamin K2 contributes to the maintenance of normal bones

Vitamin D3 contributes to the maintenance of normal muscle function

Zinc, Folic Acid, Vitamin A, Vitamin C, Copper, Selenium and Iron contribute to the normal function of the immune system. 

Vitamin D contributes to the maintenance of normal bones.

Vitamin D contributes to the normal function of the immune system.

http://novasolcurcumin.com/wp-content/uploads/2019/02/NovaSOLr-Curcumin-research-publication-MNFR-final_incl_Erratum.pdf
Share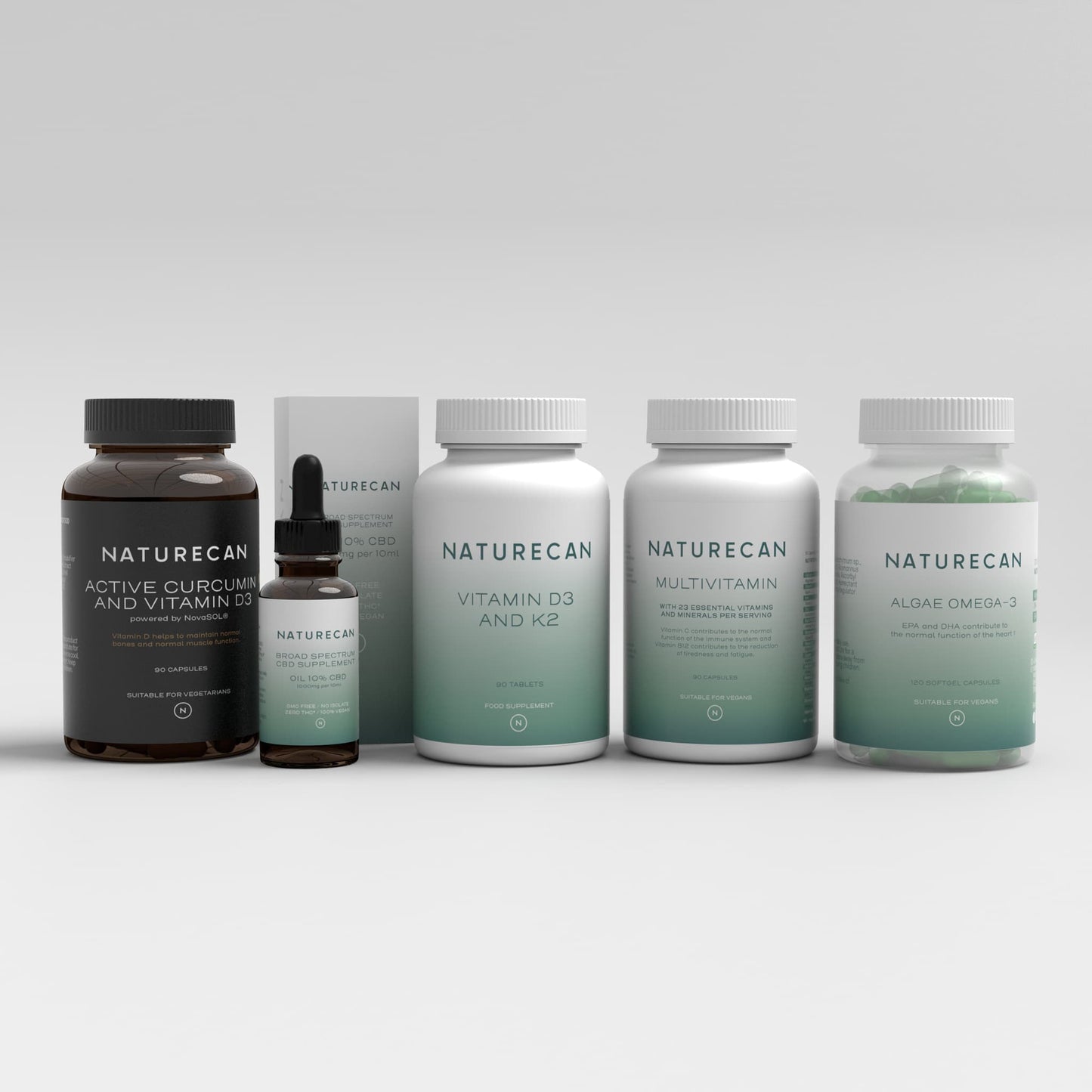 Wellness & Immune Support Bundle Reviews